Event Report: Nature Seekers Beach Clean Up

Description of Event: Matura beaches (Rincon & Orosco) are globally important nesting sites for critically endangered leatherback sea turtles and every year Nature Seekers invites people to help clean the shoreline in this area. This year a group of our CCARO volunteers, along with other concerned and interested people, will be joining them to help remove marine debris and litter that has accumulated and which may prevent successful nesting and safe turtle viewing. In addtion, the glass collected will go towards supporting a sustainable community enterprise which makes it into jewellery beads.
Justification: This activity is directly related to 2 of our main programmes (see Related CCARO Programmes below): apart from the obvious clearing away of marine debris which may affect cetaceans as well as turtles, this activity allows our volunteers to become involved in hands on conservation and to form or strengthen ties to other conservationists which may result in opportunities for a wider involvement in conservation. It also helps CCARO volunteers to get to know one another so that they are better able to form stronger more effective teams when necessary.


Related CCARO Programmes:
Developing the Desire & Ability to Protect Nature
Reduction of Habitat Damage
Report:
On the 28th of February, 7 of our volunteers met at 6:00am and made their way to Orosco Bay, Matura to help in Nature Seeker's Annual Beach Clean Up which, for the past 20 years, has been done at the start of every turtle nesting season to facilitate nesting.
We arrived just before 8am and after registering, we joined several others in cleaning our section of the beach. The trash was placed into separate bags for plastic/styrofoam, glass and metal, with the organic debris, like the branches were left in piles on the beach to be removed later.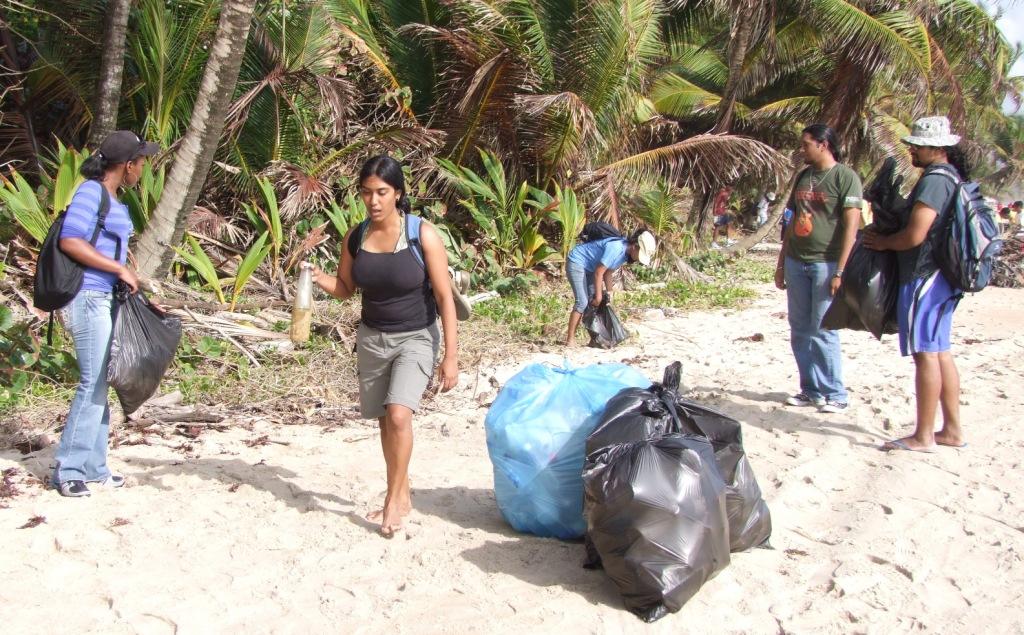 CCARO Volunteers Cleaning Up the Beach
It was good to see how many people came out to help and by 9am most of the beach had already been cleaned up by the almost 2000 people who had turned up that morning. The rest of the day was spent enjoying the beautiful beach and looking at Nature Seekers' displays on turtles, turtle conservation and their recycled glass bead project which takes the clean up a step further by recycling the glass trash found during the clean ups into beautiful jewellery.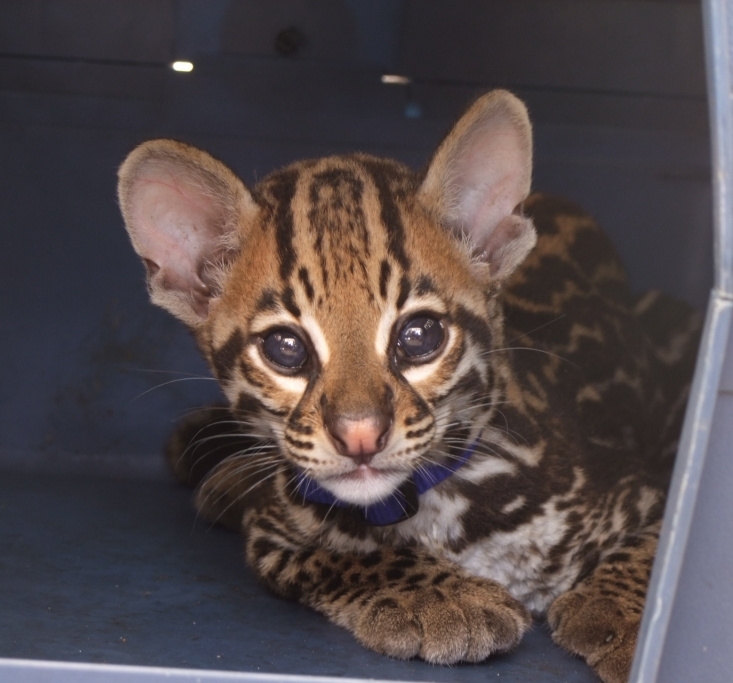 We were also treated to the sight of a young ocelot cub, named Noel, who was being cared for by members of The El Socorro Centre for Wildlife Conservation. His mother had been caught in a hunter's trap and was undergoing treatment when she gave birth to her cub at the Centre. The mother is doing well and the cub was healthy and curious about everything around him.
Although these clean ups focus mostly on the effect of trash on turtle well-being and the protection of turtles, they help to reduce the amount of trash which can adversely affect a wide diversity of marine life, including whales, dolphins and the animals they depend on for survival. Every piece of trash that washes into our ocean adds to the pollution that slowly damages our sealife through entaglement, mistaken ingestion or leaching of chemicals, so it is good to know that we were able to play a small part in reducing that trash problem.

A view of Orosco Beach and the River

Other Information: Matura Beach is located within the vicinity of two large rivers (the Matura River and the North Oropouche River). These rivers flow through the Matura and North Oropouche communities and are joined by many tributaries which flow through Turure, La Seiva and Sangre Grande. Litter enters the rivers from these communities and during the rainy season large quantities of debris and drift wood flow down the rivers and gather along the beach or seashore. This makes it difficult for nesting turtles and hatchlings to gain access to and from the beach during the nesting season (March - September) and also poses a serious problem for the leatherback turtles since they may feed on plastic bags for jelly fish. Beach clean ups help to remove this excess debris making it easier for the turtles to nest and reducing the debris that may wash back into the ocean harming turtles and other marine animals.